An Offline measurement is a measurement made without the iHealth MyVitals app open on your smartphone and account.
You must pair your iHealth Neo BP5S with your smartphone before you start taking unconnected measurements to update the date and time.
Preparation for a measurement
To ensure reliable measurements, please follow the precautions for use.
Relax for 5 minutes before taking a measurement.
Sit comfortably in a quiet place, feet flat on the floor, without crossing your legs.
Place the cuff on your arm at the same level as your heart. See How to place the cuff properly.
Place your hand, with the palm facing up, on a flat surface such as a table.
Don't talk and don't move for the entire measurement.
Breathe normally.
Once the blood pressure monitor/smartphone connection is established, press the Start button on the app.

Note - You can interrupt the measurement at any time by pressing the START or M button on the blood pressure monitor or the Stop button on the app.

Result
The cuff inflates and deflates automatically. When measurement is complete, the blood pressure and pulse rate are displayed on the screen and recorded in the blood pressure monitor's memory. The measurement is automatically saved in the monitor's memory until you decide to synchronize them. See iHealth Neo BP5S - Synchronize measurements in memory.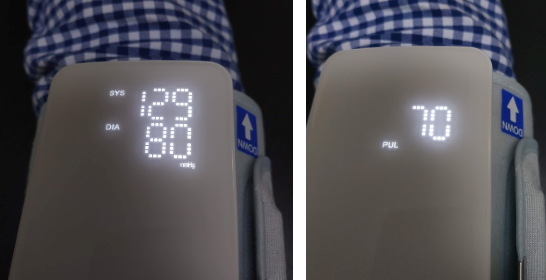 Memory
The iHealth Neo BP5S can store up to 200 measurements in memory. Once the memory is full, any new measurement overwrites and replaces the oldest measurement. Make sure to synchronize your offline measurements from time to time to avoid losing data.
To view the results of Offline measurements, press the M button of the device. A new registered measurement will be displayed each time you will press on the button. When the last measurement in displayed, press on M button will shut down the device.
*credit to Sylvain of iHealth Labs EU
https://helpcenter.ihealthlabs.eu/hc/en-gb/articles/360001436998-iHealth-Neo-BP5S-Offline-measurement