Check the "Filtrer data" menu
If there are several users of the same scale, another user may have already synchronized the Offline measurements to the "Filter data" menu. Open the iHealth MyVitals app, go to MENU > Weight > Filter Data.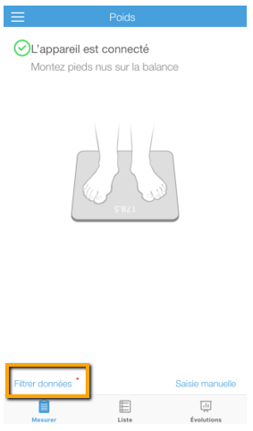 Several users have approximately the same weight
If another user of the scale has a similar weight to yours (at +/- 3Kg), make sure that he has not inadvertently synchronized all of your measurements to his account. In this context (multiple users with a similar weight), prefer connected measurements.
Take care of the date and time
When the batteries are removed from the scale, the default date and time (01/10/2017) are restored as soon as new batteries are installed. Be sure to perform a connected measurement after each battery removal / replacement to update the date and time. If you have not done so, your measurements may have been synchronized to a previous date / time.
*credit to Sylvain of iHealth Labs EU
https://helpcenter.ihealthlabs.eu/hc/en-gb/articles/115005825505-iHealth-Lina-HS2-I-don-t-see-my-synchronised-measurements-in-my-list-of-results