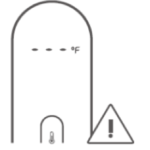 The - - - screen means invalid measurement.
Possible reasons for measurement errors include:
Measurement distance is greater than 1.18 in (3 cm). Please do not press the measurement button until the thermometer's probe is less than 1.18 in (3 cm) from the center of the forehead, and maintain the distance after pressing the measurement button.
Environment temperature does not meet measurement requirements or the environment is outside the following operating range:

Temperature: 59°F-104°F (15°C-40°C)
Humidity: 15-95% RH (non-condensing)
Atmospheric pressure: 70~106 kPa

Target temperature exceeds the measurement range 89.6°F-109.2°F (32°C-42.9°C).
If your thermometer still does not show a measurement after following these instructions for measuring position and operating environment, the device might be defective. Please contact iHealth Support at support@ihealthlabs.com and provide the below information:
Location/website of purchase.
Date of purchase.
Order number.
Device model number: PT3.
Lot number (printed on the box, starting with "KA") or serial number (SN, printed on the sticker on device, starting with "KA").
A brief description of the issue, along with a video showing the problem.